PROJECTS OF THE EVERYDAY is OSCA's ongoing state-wide artist commissioning initiative that seeds, develops and presents artist-led projects in in innovative spaces of creativity, making and experimentation.
Since 2017, 16 emerging and established First Nations and South Australian artists have been engaged to develop and create new and innovative temporary site-responsive projects in the area where they live and work. Over the next 4 years we are undertaking 6 new projects across SA from Kingston in the SE to Port Wakefield.
By supporting artists to take risks, experiment with form and work locally, PROJECTS OF THE EVERYDAY instigates a boldly responsive and sustainable creative model that offers dynamic new creative opportunities and outcomes for artists and audiences. The diverse project outcomes highlight OSCA's focus on the development of new forms of artistic engagement and participation in the public domain.
---
CURRENT ARTISTS & PROJECTS
ARTISTS: Aunty Margaret Brodie & Jennifer Eadie & the KAURNA WOMENS ART COLLECTIVE
PROJECT: Lartelare is a long-term project initiated by Margaret and Jennifer in 2022. The collective brings together Aboriginal women connected to Yartapuulti (Port Adelaide) and aims to open-up new understandings of Kaurna history, stories and culture. For the artists, sharing this work represents an act of resistance against the colonial, industrial and military narrative that currently defines Port Adelaide.
LOCATION: Yartapuulti (Port Adelaide)
OUTCOME: Footprints, Tarnanthi Festival, Harts Mill, 14 to 23 Dec, 2023
————–
ARTISTS: Sonya, Sarah and Susie Smith / Boandik Nation
PROJECT: Kingston Weaving is a First Nations-led, community weaving project that focuses on the cultural representation of animal totems, water and the local landscape. This family artist team will undertake a long-term community activation with local participants towards the creation of a large-scale outcome.
LOCATION: Kingston, Limestone Coast, Southeast, South Australia.
OUTCOME: 1st stage development underway
———-
ARTIST: Jay Milera – Narungga & Kaurna Nations
PROJECT: Meeting Place (working title) is a First Nations-led digital storytelling project that explores the traditional meeting place of Port Wakefield and history as the site where First Nations groups would come together for ceremony, cultural sharing, and exchange. The project will be created with Senior Kaurna & Narungga Elders, Cultural Consultants and community.
LOCATION: Port Wakefield, South Australia
OUTCOME: 1st stage development underway
———
PROJECT: Bestowed is a socially engaged project that explores the burden of unwanted gifts and the social and practical complexities involved in their bestowing, receiving or discarding. It will reflect and expand upon the value of the gifts and experiment with rituals of disposal as a public service.
LOCATION: Adelaide Hills
OUTCOME: 1st stage development underway
———
ARTISTS: Alison Currie & Ade Suharto
PROJECT: Time and Space is a performative exploration of the Parndo Yerta / Charles Cane Reserve. Its time-based approach will ask how might dance artists collaborate with community bodies, sports clubs, dog walkers and park regulars to create an accessible outcome based on the premise of this community space being reconsidered as an arts space as opposed to a sports field.
LOCATION: Parndo Yerta / Charles Cane Reserve, Prospect
OUTCOME: 1st stage development underway
———
PROJECT: A Monument to Triggs Two encourages creative thinking and environmental action through surfing. It will use the iconic Triggs car park in the City of Onkaparinga and various locations across the Fleurieu Peninsula as the sites for a series of public interactive workshops with local surfing, artistic and residential communities and the creation of a collaborative outdoor installation and public event.
LOCATION: Port Noarlunga and Fleurieu Peninsula
OUTCOME: 1st stage development underway
---
You can help these artists bring their projects to life by making a donation today.
---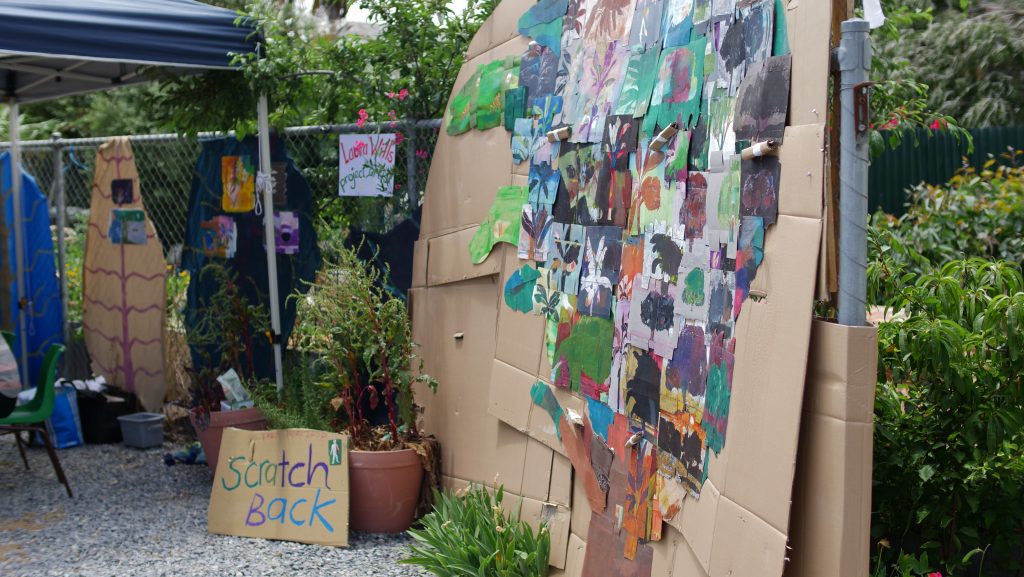 PAST PROJECTS – SINCE 2017
CREEK LORE by visual artist Laura Wills was a weekend of guided walks along First Creek involving the community to discusses public and private land ownership and share their ideas and experiences of First Creek. Supported by the City of Burnside. Outcome in May 2017.
FORAGAERS, WEED GARDENS AND GATHERINGS – Through a series of community focused workshops, gatherings, foraging expeditions, recipe exchanges and art events, FWG explored and celebrated contemporary/historical knowledge and use of local, native and imported vegetables, flowers, weeds and greens. Supported by the City of Port Adelaide Enfield. Outcome in Nov 2017.
A self published booklet on the event titled FINDERS SHARERS is available for purchase here.
GARDENS DON'T LIKE…by Mona Khizam is an ongoing documentary video series which explores how our gardens can reveal the truth about our values and the lives we lead.. It thematically explores the relationship owners have to their gardens and plots of land. The first series was filmed in Salisbury, Elizabeth Grove and Parkside and premiered in 2019 with series two, made in Hackham and Morphett Vale will premiere in late 2023. Supported by the City of Onkaparinga.
LOCAL SITES by Margin Medlin explored a series of contentious and undefined spaces in the SW corner of the City of Adelaide. In consultation with her neighbours and other local residents, Margie asks questions about how these spaces of indeterminacy can become sites for actions and events. Outcome in 2020.
GUITARCHESTRA by Matthew Timmis was an inter-generational electric guitar / bass ensemble and series of concert outcomes as part of the Adelaide Guitar Festival. GUITARCHESTRA generated an unprecedented opportunity for an incredibly diverse range of 60 amateur and semi-professional guitarists aged from 12 to 80 to participate in an inclusive creation process and unique performances of new experimental music. Premiered in 2021. Supported by the City of Port Adelaide Enfield and The Adelaide Festival Centre.
——–
OTHER PROJECTS in development
THE JETTIES PROJECT explores a series of metropolitan jetties as sites for participatory and socially engaged art events.
---